roger klug has one hell of a nerve!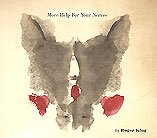 Roger Klug
More Help For Your Nerves
Mental Giant/2009
More Help For Your Nerves, Roger Klug's first album of original material in 12 years, appropriately kicks off with a joke that ends in a dare. "There's a ringing in my ear/It's been going on for years," the artist sings with mock sincerity, "Let's call the whole thing off." There's the ringing, wah-wah guitar--the tangible symptom of the "Tinnitus" of the song's title, the thumping drum that starts the song off in the manner of a throbbing headache coming on, the quick-strummed guitars and Roger's diagnosis, a kind-of "You say tomato, I say tomahto" pledge of allegiance to either take it or leave it. And then, "Let's call the whole thing off." Well, he doesn't mean it, you crybabys.
Ace one-man-band Roger Klug, the pride of Cincinnati, really doesn't mean to hurt your feelings. The album's called More Help For Your Nerves, not Let Me Play With Your Emotions. This is, after all, the man who curated the 1999 tribute to Cincinnati's answer to Phil Spector, Joe Meek and Sol Siler, Where Has All the Music Gone? The Lost Recordings of Clem Comstock. You have to have a heart to spend hours on end collecting the works of such a producer's producer, the self-styled Musical Prince of Porkopolis. Roger Klug has a heart, and he doesn't want to see it running so fast on account of your raging nerves that you won't sit still for the 56 minutes it takes to spin these 17 wonderful songs.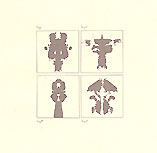 Roger Klug has a heart alright, and here it is, splattered all over tunes about society's misfits: a guy who pleads with his girlfriend to dump him hard so he knows that the hurt will stick; a guy who yearns for an eclectic relationship but can't decide just how eclectic that is; a baby-hungry girl whose every activity revolves around meeting the father of her future children, at the risk of her own identity; a lovelorn guy who wishes a romance going on before his eyes will fail so he can swoop in and save the romantic day; a group of sad sacks who find that the keys to heaven may not always be within reach.
More Help For Your Nerves turns out to be a snappy, pure pop, self-help manual that can inspire the minds of guys and gals like these to widen and accept all possibilities in life. Certainly, Klug is the epitome of the widescreen mind: his albums are practically road maps to creative bliss. Consider the Glenn Miller meets Alison Krauss thumper, "Bogeyman," a phat encapsulation of a reigned-in, big band sound, complete with a bumping bass drum backbeat, jazzy guitar solo, and a bluegrass violin showcase for Emily Randle Leader, one of the album's few guest musicians. Consider also the initially rocky (again with the bumping, thumping drums) "About Time," which veers, at 1:35, into a celebration of Roy Clark guitar magic. Hee-haw, indeed.
The magic of More Help For Your Nerves is that anything is possible within its grooves, so it comes as no surprise when the (mostly) tender, have-hope-for-tomorrow, sage advice of "When Dreams Dry Up" is followed by the glorious, mega-multitracked Beach Boys a cappella creation, "My Life Is Sweet," in which Klug can't resist playing the John Lennon game of yin and yang ("My life is sweet/Shit/My life is sweet...") in the midst of an otherwise, well, sweet confection. Klug, in fact, plays the yin and yangities of pop music like a sweet fiddle, taking on the eccentricities of life and marrying them to the pure pop he so obviously knows and loves.
She drives a forklift/She parts her hair on the side/Wears steel-toed boots, yeah/A girl after my own heart. — from "Girl After My Own Heart" by Roger Klug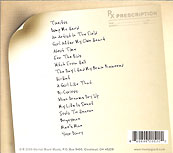 Artists do not come fully formed out of the womb; only spit and polish and deliberate, incessant exposure to the Beatles can combine to deliver ready-for-prime time, musical artistry. It is this primal, combined characteristic that is explored in the pop 'n' roll of the jaunty "An Artist in the Field," which posits that the getting there is half the fun, but actually getting there demands at least another 90 percent. "Spit it back in a new way," Klug suggests. "Leave your rules at the door/Two and two don't make four/In the kingdom of Dreamtime/Tap the science inside/Colors brighter than light." But instead of leaving that piece of sage advice at the door of a kingdom of wannabes, Klug leave them with a joke: "It's sublemon and sublime." It is the un-believable truth of an artist's life, after all.
And it's been the truth, totally believable, throughout Roger Klug's limited output over the last, almost-15 years. You might say that More Help For Your Nerves is the natural endgame resulting from the combination of blood, sweat and tears that went into the creation of Toxic and 15 Other Love Songs and that album's predecessor, Mama, Mama, Ich Bin In Dem La La Land. You might even say that the sheer brilliance of the wide-ranging styles contained within the confines of the Clem Comstock compilation are a result of Klug's influence. You might be right, but you're no Billy Joel.
Alan Haber
June 27, 2009