a beautiful racket, straight out of rochester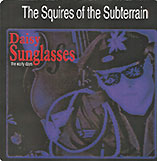 The Squires of the Subterrain
Daisy Sunglasses: The Early Days
Rocket Racket/2001
Every musical handyman has to start knocking in the nails somewhere. In Rochester, New York, pop journeyman Christopher Earl Zajkowski took root in his basement as the 1980s began winding down, handling most of the string plunking, keyboard fingering and skins thumping himself . Thus began what has now grown into a 20-year solo career as the only, full-time member of the Squires of the Subterrain.
Zajkowski, who goes by the professional moniker of Chris Earl, has also played with the Hi-Risers and the Riviera Playboys, fine bands both, but it has been as the Squires that he has distinguished himself with release after release of finely-honed, homegrown pop music. Earl's first three albums --Shell Beach, Royal Slumber and Cowboys and Indians, released between 1989 and 1991, were cassette-only productions of various audio quality with no variance in the quality of the music. As collected on CD in 1991 as Daisy Sunglasses: The Early Days, these 12 songs are the Squires' first Rochester rumblings, and boy, are they swell.
Adhering to an economical approach, most of these songs are short (five, for example, are under two minutes). The title tune is one I bet XTC's Andy Partridge would like to have written and recorded, its vocal approach similar to Partridge's more pastoral warblings. Add in a nice, harmony trumpet part; an intoxicating, lazy melody, and sparse instrumentation, and you've got a low-key charmer.
The downright McCartney-esque "Annie B." traffics as a piano-centric toe-tapper, its jazz-pop trumpet lines (played, as on "Daisy Sunglasses," by Scott Bradley) recalling the "Penny Lane" side of the Cute One in a catchy romp that wears its catchiness on its short, 2:07 sleeves. A love song to the alluring upsides of a "Rainy Day," a nostalgic nod-to-Harry Nilsson, is retro-cool (speaking of "Penny Lane," catch the percussion shout-out to that timeless song at 0:54).
As collected on CD in 1991 as Daisy Sunglasses: The Early Days, these 12 songs are the Squires' first Rochester rumblings, and boy, are they swell.
Two clever waxings close out this collection, both echoing sounds from the sixties. The cheery, bouncy instrumental "Royal Slumber" mixes Beach Boys stylings with wordless "ba-ba-bas" reminiscent of the Association and the Fifth Dimension. "Burbank Terrace (The Rosey Beats)" pairs Beach Boys echoes with a beautiful distillation of soft pop conventions, including some very nice chord changes and harmonies. And then, with just under a minute to go, the song fades out and then fades in again with a very cool Beatles "Rain"-y backwards refrain. Most unexpected, but fitting perfectly like the final piece of a large jigsaw puzzle.
As the Squires, Chris Earl would continue to travel down paths originating in these recordings, while also taking a few left turns into surprising stylistic territories. We'll cover them all here, as buhdge's The Squires Project continues next time.
Alan Haber
January 10, 2010