lost ep found: pat walsh's bright and shiny beginnings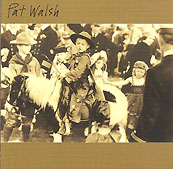 Pat Walsh
s/t EP
Self-released/1997
Coming on like a vocal cross between Michael Penn and Tom Petty, Pat Walsh--Georgia-residing, by way of South Carolina--slays the world's collective heart with this quartet of classic waxings that no pop fan should be without.
I said the same thing about Pat's album Egghead, released in the good old days of 2001. I would likely say it again about his next album, and the album after that, because, whether you know it or not, Pat is one of those guys who is unable to craft a sorry song. Pat is a meticulous crafter of great songs, songs coming directly from the heart, melody-rich creations matched with top-notch, poetic lyrics for the ages. Pat may be an egghead under his many hats, but underneath his dome, he is the good samaritan of great songs.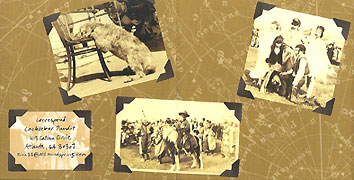 Like this EP's leadoff track, the majestic, instantly singalongable "The King of Tinseltown," a tongue-in-cheek, should be top of the pops, celebration of success that allows for the retiring of a man's "mop and pail." "No more scrounging for a break/Giving's gone, it's time to take/When my world turns upside down," he clacks against a backdrop of joyous harmonies, an insistent 4/4 beat, and wondrous Rickenbacker jangle. Like the beautiful statement of winning through adversity, "We Will," sporting a typically infectious melody, Walsh's affecting vocal, and an underpinning of mellifluous mellotron warmth.
Which is not to forget the changing tempos of the mystical "Black Crow," and the tuneful closer, "Umbrella Birds," elevated to classic status by a wonderful George Harrison-esque slide guitar and some clever, poetic lyrics: "Umbrella Birds/Populate my stream/They coo and caw/As I blaspheme/Umbrella birds/Umbrella birds/Scheming overhead."
School boys peep/Penguins glide/Leopards leap/Almond eyed/From Rye to Dublin/It's Jack and Jill/Who'll thumb their noses/We will. — from "We Will" by Pat Walsh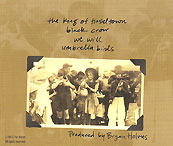 There's no scheming here, though, just solid pop music written and performed by a master of the form. Ably assisted by a panoply of more-than-able players, including ex-Jellyfish bassist Tim Smith, Walsh comes up with a winner. Move on, quickly, to Egghead, another four-star effort, and see what all the fuss is about. And look for Walsh's next album, coming... soonish... Right, Pat?
Alan Haber
June 27, 2009